About SkinCeuticals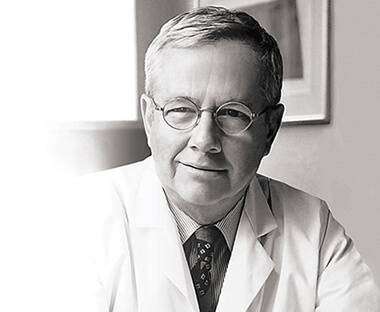 How did SkinCeuticals begin?
As SkinCeuticals founding scientist, Dr. Pinnell changed the face of topical Vitamin C Serums with his pivotal research. More than just a dermatologist, professor and skincare chemist, meet the man behind the lab coat and hear him explain his ground breaking work.
Dr. Pinnell passed away July 2013. His quest for knowledge and dedication to skin science was paramount for establishing SkinCeuticals as the antioxidant authority. His work will continue to inspire our research and promote our mission, which is to develop advanced skincare solutions backed by science.

Education
Dr. Pinnell received his Medical Degree from Yale University, conducted his medical internship and residency at the University of Minnesota Hospital in Minneapolis, Minnesota, and completed his dermatology training at Harvard University and Massachusetts General Hospital in Boston, Massachusetts. Dr. Pinnell conducted his research training as a collagen chemist at both the National Institutes of Health in Bethesda, Maryland and also the Max Planck Institute for Biochemistry in Munich, Germany. Dr. Pinnell earned his Bachelor of Arts degree in Chemistry at Duke University, where he graduated with Phi Beta Kappa academic honours.
Patents
Dr. Pinnell's skin science research earned him eight patents over the course of his career. The most important patent in SkinCeuticals history pertains to "A Stable Solution of L-Ascorbic Acid (Vitamin C)." The formulation standards put forth in this study are now known as the Duke Antioxidant patent. Three additional patents have supplemented Dr. Pinnell's initial patent, one for the formulation-specific application to protect the ingredient combination used in Skin Firming Cream and Eye Cream; another to protect the combination used in SkinCeuticals C+E skincare products; and a third to protect the formulation used in SkinCeuticals phloretin skincare products. Together, these patents provided a firm foundation for all SkinCeuticals antioxidant products.

Biography
A distinguished member of the Duke University Medical School faculty for almost 40 years, Dr. Pinnell was a professor of dermatology, held the title of J. Lamar Callaway Professor Emeritus of Dermatology, and also served as Chief of Dermatology at Duke University Medical Centre for 15 years. At Duke, he trained physicians from the United States and abroad both as dermatologists and research scientists. With almost four decades of experience in skin cancer, skin disease, and skin ageing research, Dr. Pinnell published more than 200 scientific articles about topical vitamin C, antioxidants, collagen synthesis, and photo-damage in peer-reviewed dermatology journals.